Dec 2016 | Business Process Improvement with impi!, Plug-in extensions, TeamPage improvements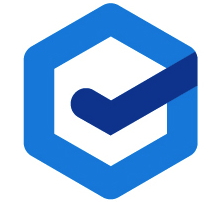 Traction® TeamPage Winter 2016 Release consolidates TeamPage point releases shipped since May 2016, adding numerous improvements to support business process, quality management, daily report, and other plug-in extensions. This release also includes new user experience and performance improvements, bug fixes, extensions of the TeamPage SDK, and architectural enhancements to extend the capabilities of the TeamPage platform.
Business Process Improvement with impi!
Traction Software has teamed with impi! Solutions to create a family of business process improvement solutions that use TeamPage as a platform for planning, support, management and improvement of business and quality management processes, with a particular focus on processes aligned with ISO 9001:2015. See Why, How and What of the impi Standard Meeting Plug-in for TeamPage for a short video demo and customer interview.
All impi! solutions are built on TeamPage on a wiki space and are standard documents. Every solution starts with a Policy (the why) and a Standard Operating Procedure (the how). The SOP is the hub that links all the other documents (the spokes). The templates used for these documents are the same that the client can use for their own controlled documentation in their own wiki space called "Knowledge Central". Two outputs of every improvement projects are a) an operational improvement and b) documentation in Knowledge Central. The project templates used to run improvement projects comprise standard articles that will naturally become elements of the BOP (e.g. SIPOC, business process maps). When the project leader reaches the Control or Adjust part of the project, large chunks of the documentation would have been written. Using the capability of TeamPage simplifies the linking and tagging of documents. The organization steadily builds its very own Wikipedia, and it's ISO 9001 compliant. The risk of deadwood documentation is reduced: team members create their own documentation, hyperlinking contextualizes the documentation and tagging and search capability ease retrieval of information.
Several templates are available for improvement projects (e.g. PDCA, DMAIC). With each project milestones are associated standard articles e.g. project charter, project checklist, Fishbone diagram, business process "AS IS". For each milestone there are also associated tasks. In each task is a tutorial on its own with tips and links to glossary terms, One Point Lessons (e.g. How to use a risk assessment matrix) or external reference in the public domain, e.g. Wikipedia, Lean Institute.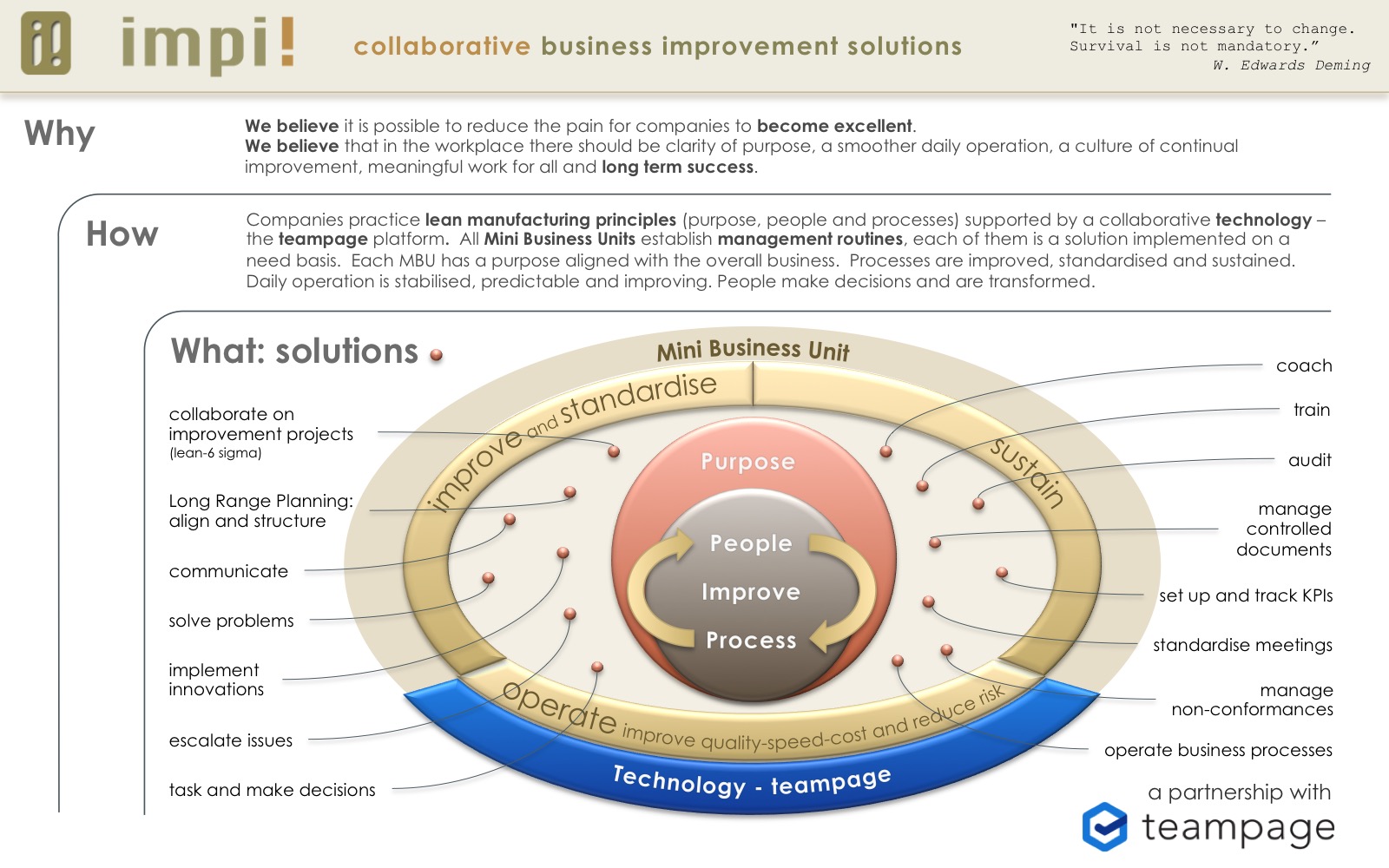 Impi! Solutions and its consulting partners offer Business Process Improvement services to help guide successful introduction, management, and improvement processes by mentoring and working as members of their client's TeamPage based solutions rather than walking away after presenting a big consulting bill, and coming back to pick up the pieces six months or a year later. By working alongside their clients in the same TeamPage system, impi! partners can remotely monitor activity, recognize potential problems or opportunities, answer questions, work through issues or problems, and provide guidance that's both effective and affordable, particularly for small to mid-size organizations.
Contact Traction Software to learn how impi! Solutions can help your business succeed.
Daily Report and other plug-in extensions
Traction Software's Japanese Business Office works with TeamPage USA and customers and partners around the world to define, develop, and deliver plug-in extensions to Traction TeamPage. TeamPage extension range from customer specific specialization of general purpose TeamPage Task, Project, and Dashboard forms and views to a growing range of mini-applications that work as a native part of TeamPage. These extensions leverage TeamPage's plug-in runtime extensible architecture to selectively override or add behavior and properties to the base TeamPage model, making it simple to maintain plug-in's across TeamPage releases.
For example, Traction Software's Japanese Business office launched a dedicated DailyReports.biz site and solution for the Japanese Daily Report 日報 practice. In some Japanese companies, at the end of each day employees are expected to write a summary of what they did and submit it to their boss. This is called a "日報" (daily report or daily journal) and is traditionally used to share information between employees and bosses. Rather than adding a chore at the end of each day, the new Daily Report solution makes it easy to share a short note after a talk with a customer, when a task is completed, or after some other noteworthy event. The note is easy to post using a phone, tablet, or desktop computer and is shared in with others in real time. The note is also automatically included in a summary email digest at the end of the day, see DailyReports.biz (Japanese).
Daily Reports can include tasks, scheduled events, meeting notes, photos, and Customer contact notes using an extensible CRM form on desktop or mobile devices. Team members as well as bosses can share notes, plans, and a Daily Report calendar of events.
iPhone Daily Reports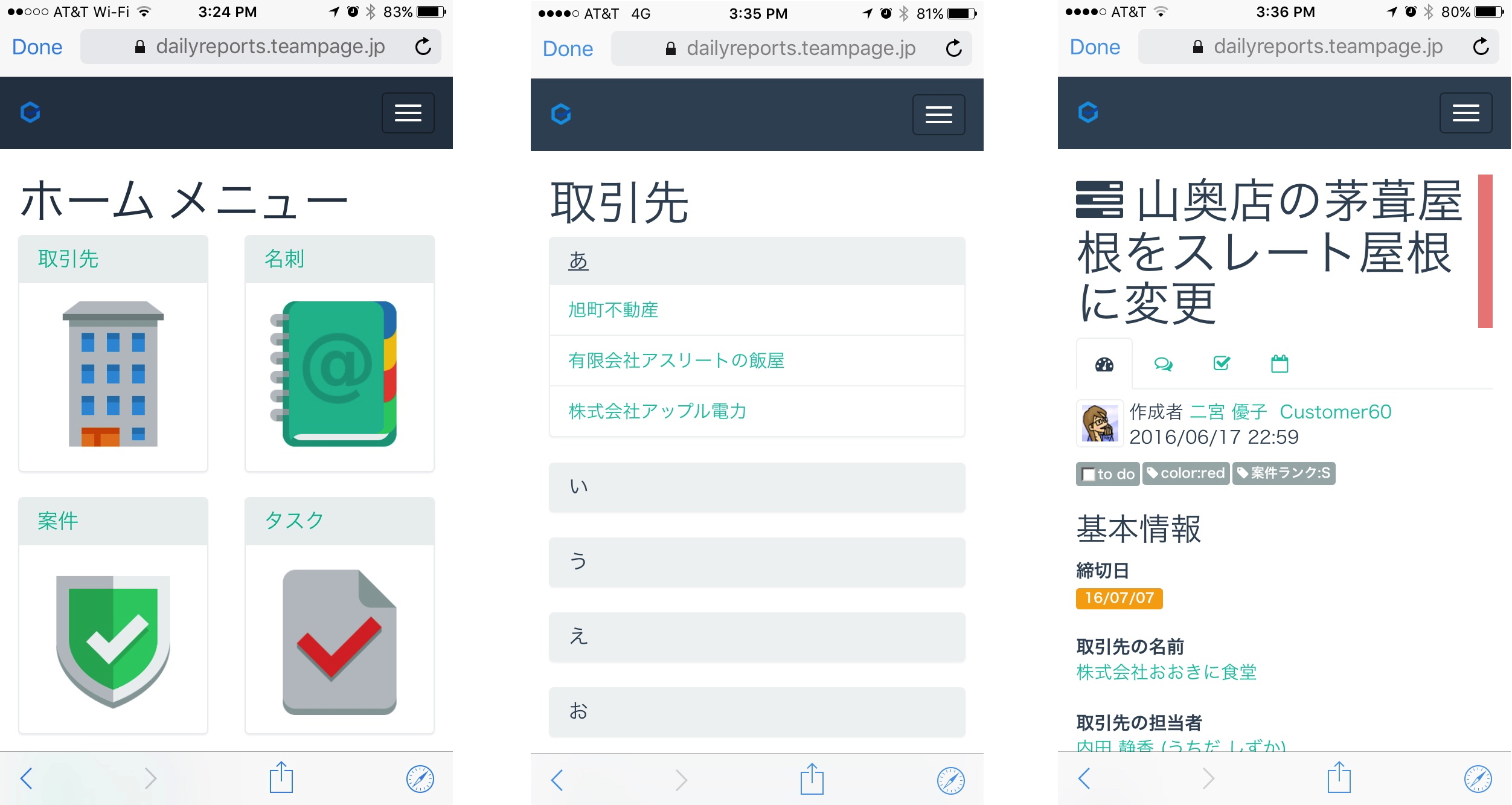 Daily Report is offered as a dedicated solution in Japan, see DailyReports.biz for a live demonstration site, pricing, feature summary, and frequently asked questions (all in Japanese). Google Chrome's automatic translation works well for reading the DailyReports.biz site and demonstration in English - on mobile as well as desktop devices. In Japan, please contact DailyReport.biz for more information.
In US and other markets, please contact US sales if you're interested in using the Daily Reports solution, or for information about free TeamPage community extensions, mini-applications, or customer specific extensions tailored to exactly what you need.
Other Release Highlights
• Improved Social Enterprise Web Comment and Task forms
• Improved Section Table widget editor
• Updated Japanese localizations
• Finer grain control over what events appear in your Personal Calendar
• New "Assigned to Me" and "Notify Me" filter options for Task Lists and other views.
• Updated version of TinyMCE rich text editor
• Support for SHA-2 algorithms for Certificate Signing Requests (CSRs)
• New "Indexing Mode" setting controls how Premium search tracks and dispatches new and updated documents
• Improved support for Microsoft Edge browser
• Social Enterprise Web. The hover menu for individual files (either in a single file view, or in external search engine results) now includes a "describe" item that will allow a user who has permission to do so to create or edit an entry that contains an authored description of the file.
• Many "under the hood" improvements to the part of the Traction SDK that cover integration with external search engines, with the goal of making external search engine features more reliable. The Traction SDK external search integration API (mostly contained in the com.traction.sdk.search package) has undergone extensive changes.
Related
Why, How and What of the impi Standard Meeting Plug-in for TeamPage A short video demonstration and customer interview of the impi! Standard Meeting plug-in for TeamPage.
Jul 2016 | TeamPage Real Time Daily Report 日報 (Japan)
Jun 2016 | ISO 9001:2015 Requirements Met By impi! Solutions
May 2016 | TeamPage Mobile App, Improved Document Management
Dec 2015 | Quality Management, Signature Requirements Create, distribute, manage, and improve procedures to deliver high-quality products and services to your customers
The Work Graph Model: TeamPage style Understand how TeamPage connects people and their work
A Fabric, not a Platform Making work actionable as well as observable: Objects, context, conversation, connection
Tweet