Dec 2015 | Quality Management, Signature Requirements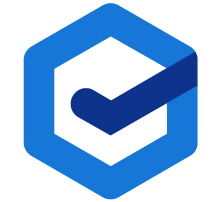 Traction® TeamPage Winter 2015 Release introduces a new TeamPage Quality Management option. The Quality Management module adds Feedback, Non-Conformance, and Corrective Action forms and dashboards to TeamPage's standard support for authoring, delivery, and tracking of quality and compliance documentation. The new Quality forms and dashboards make it simple to manage the full life cycle for manufacturing, operations, and other procedures based on ISO 9001 or other compliance standards. Signature Requirements is a new capability which lets you require people to sign TeamPage articles either once or on a recurring basis. Signature Requirements can be used to collect approvals for publication, confirm that a document has been reviewed or a process followed, or for any other situation where a set of users and groups must explicitly acknowledge that they have reviewed an article. Signature Requirements is included with the Quality Management option, and is also available as separately priced independent option, please contact us for details.
Quality Management
The Quality Management module adds a Quality tab with Overview, Feedback Reports, Non-Conformances, CAPAs (Corrective and Preventive Actions), and Quality Calendar subtabs to any TeamPage Space. This makes it simple to set up separate Quality processes for different departments or use cases on the same TeamPage server - or just use a single Space shared by all of your teams.
The Quality Management module also adds new Feedback Report, Non-Conformance, and CAPA forms to TeamPage. These Quality forms work like specialized TeamPage tasks, with additional pull down and fill in the blank options used to classify, assign and track Quality related actions. Action tracking, calendar notification, history, search, personal worklist, email digest, and other capabilities work just like they do with standard TeamPage tasks. This enables you to not only track the status of Feedback, Non-Conformance, and CAPA items, but also to use TeamPage collaborative and action tracking capabilities to work with your team to diagnose the problem, come up with a solution, then implement and test the updated procedures - while keeping everyone on the same page. TeamPage streamlines and simplifies the compliance process for everyone.
By combining TeamPage authoring, delivery and tracking with Quality Management module reporting, you get a system that's easy for people to use to get their work done as well as a system that makes your Quality Management team - and auditors - very happy.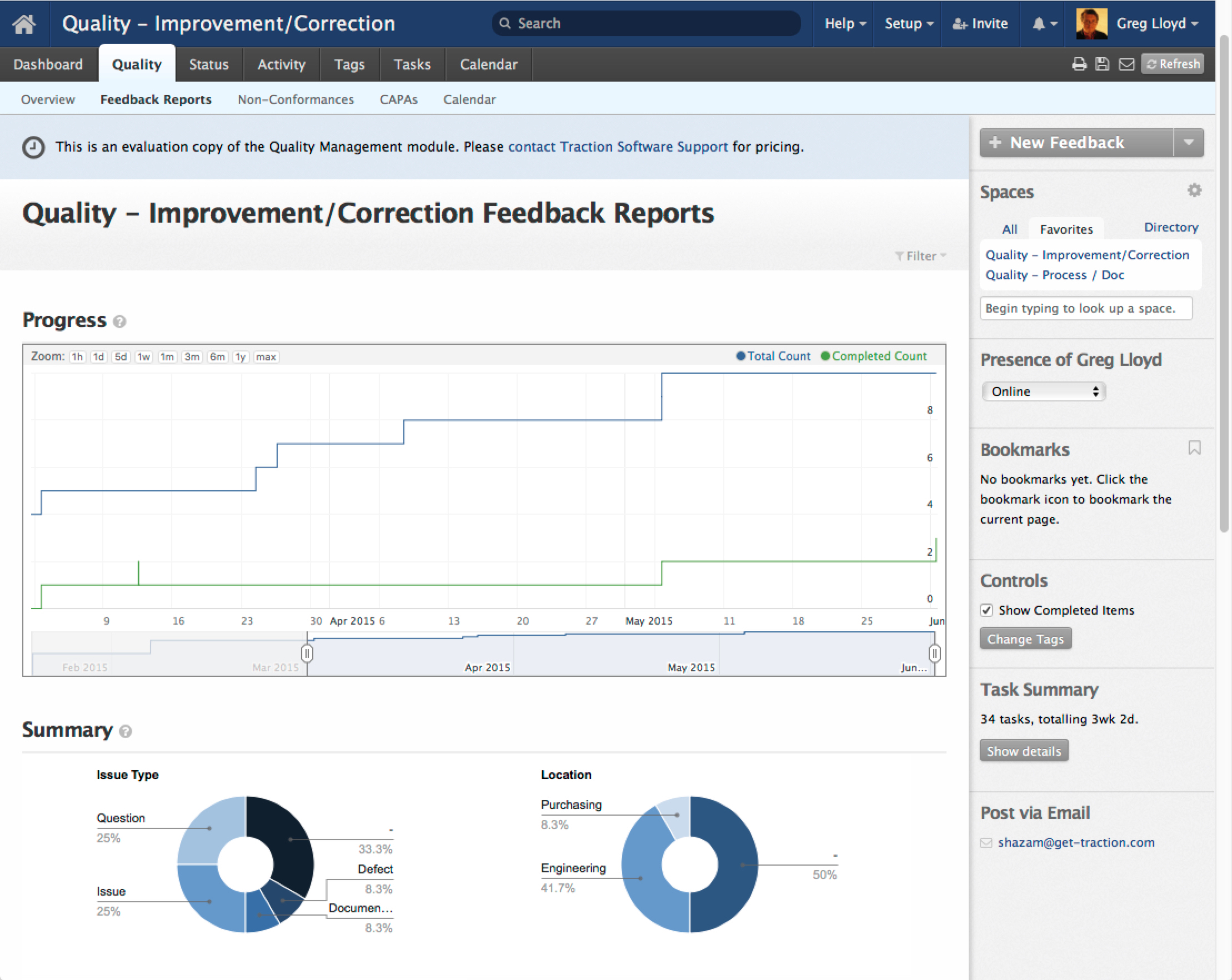 Feedback Reports, Non-Conformances, CAPA subtabs each include a dashboard view with burn up chart, pie chart summaries, and an interactive tracking table for the corresponding Feedback, Non-Conformance and CAPA forms. The sidebar shows the total number of tasks and sum of tasks times for all forms of that type, with a choice to show only open Tasks to include completed items. Click any segment of a pie chart to zoom in on items that match that filter.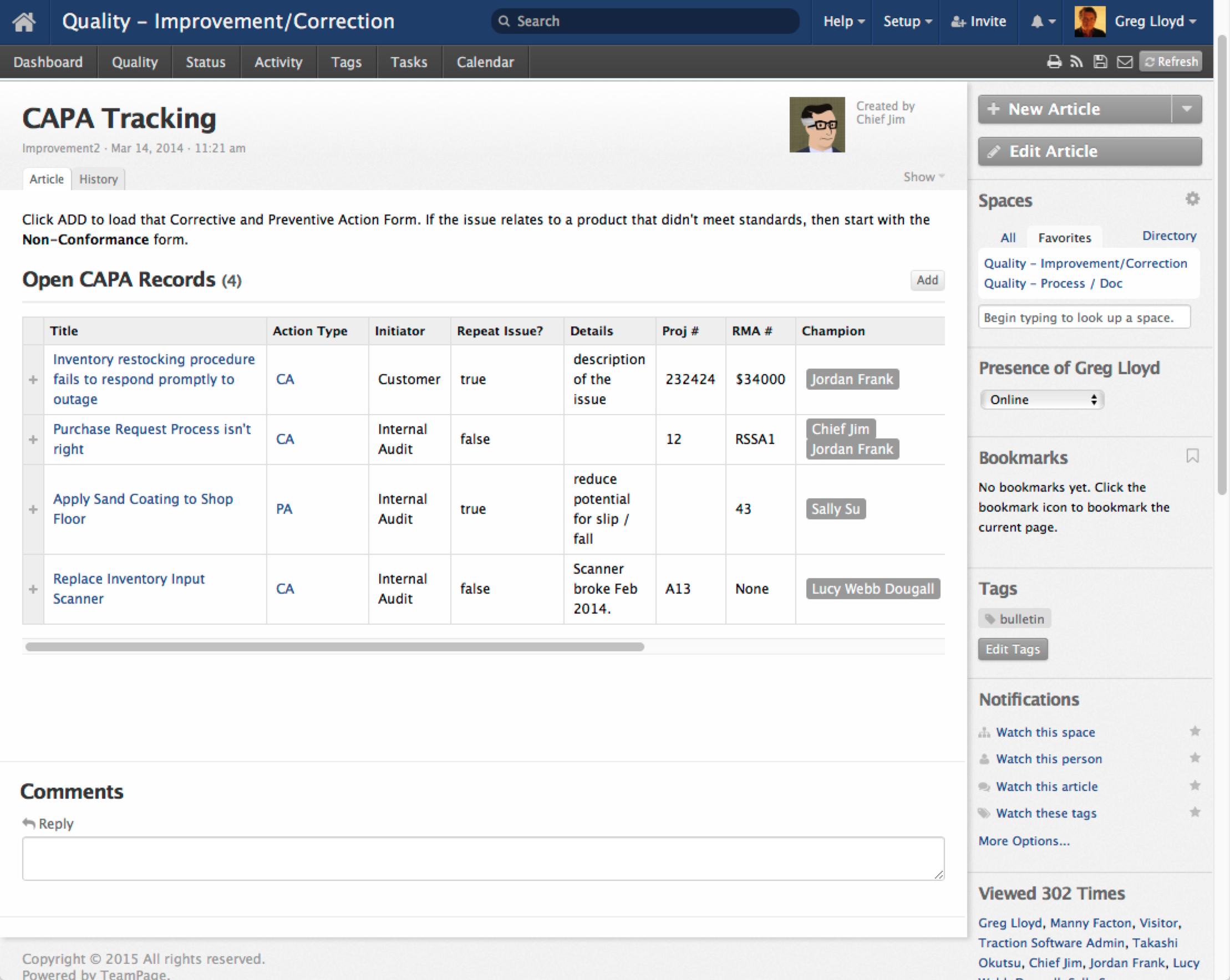 The interactive Tracking table for each subtab lists the title and selected properties for items of that type. You can choose any of the form's properties to show as table columns, and sort by any column by clicking the column name. The items shown in the table drive the burn-up chart and pie charts for the corresponding dashboard view.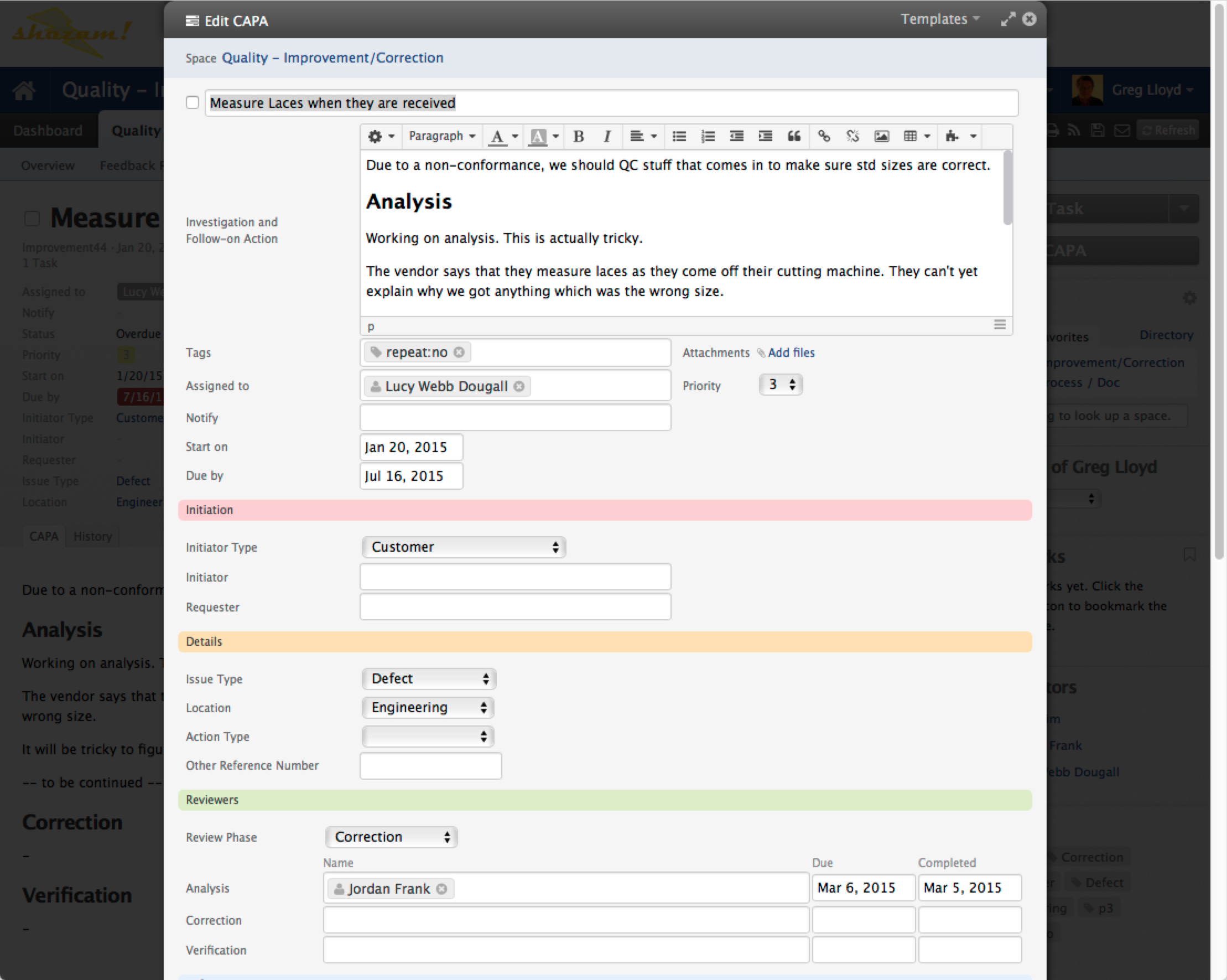 Click the Add or Update buttons to create or edit the corresponding form type. The CAPA form shown above includes pull down selectors for Initiator type, Issue Type, Location, Review Phase and more, along with auto-lookup fields to fill in the responsible person - or persons - and action dates.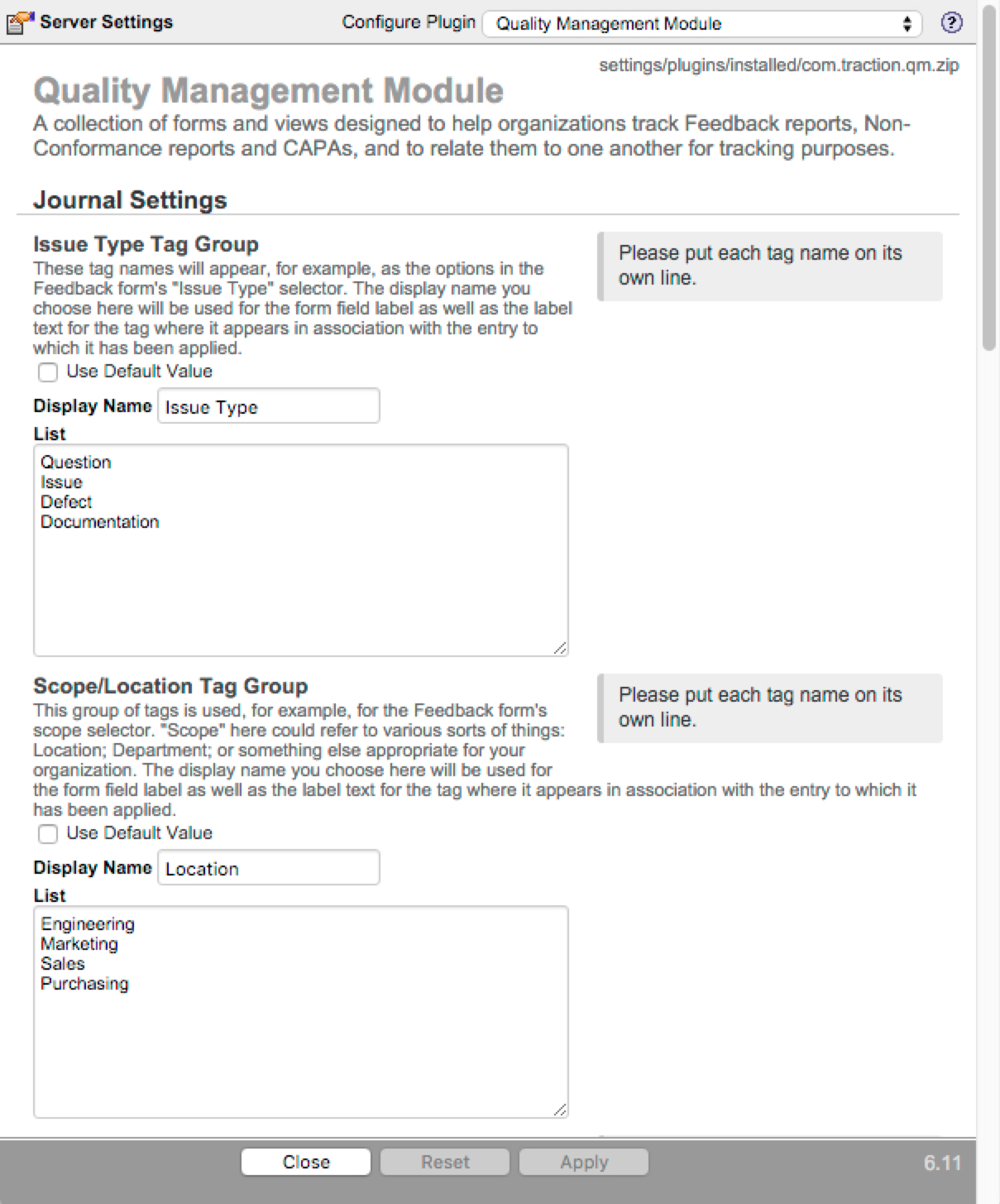 Every organization will want to use its own values for pull down choices like Initiator type, Location and other fields. The Quality Management setup form lets customers who have appropriate permissions fill in their own choices for pull down options as well as selecting template articles that contain the default content for each type of form.
The Quality Management module is an extra cost option that is now shipping. The Signature Requirements module is included with the Quality Management option, please contact us to learn more.
Signature Requirements
TeamPage now has a separate module that supports managing signature requirements. You can require selected users and groups to read, approve, authorize, or certify that they have taken some action associated with or described in a TeamPage article.

You can schedule signature requirements to be completed by a specific date, and you can also set them to recur automatically, for example to help clinical staff fulfill the requirement to review certain Standard Operating Procedures on an annual basis.
The types of requirement supported are extensible, so you can easily add custom types. The system reminds everyone involved of upcoming and overdue digital signature requirements, and managers can see exactly who signed when—and who has not yet signed—broken down by person, group, document, or space.
For auditability, signatures track the exact version of the document signed, and if a document has changed since the last time you signed it, the system shows you the exact changes between the versions.

Signature Requirements is now shipping as part of the Quality Management option or as a standalone option, please contact us to learn more.
More about TeamPage Quality Management
TeamPage Solutions: Quality Management - Author, version, and share quality procedures using TeamPage
How to make your ISO Auditor Smile; And Make Your Professional Life Much Easier - A Swedish precision machined products manufacturer uses TeamPage for ISO/TS 16 948 certified manufacturing and ISO 14 001 certified Environmental Management. One day the ISO auditor paid a visit ...
Alcoa Tackles IT Projects and Compliance
Athens Group - Traction® TeamPage for Quality Management, Training and Knowledge Base
Decagon Devices: Plans, Products, Projects, Procedures and ISO 9001 Quality Management
Other Release Highlights
Improved Unified Search
Type-ahead completion for unified search now supports "in-order" character-by-character matching for space and user names to make it easier to find thing even if you're not sure how to spell what you want. Tag names now offer type-ahead completion. User name and user display name type-ahead completion is now provided even for users who don't have full address book search permission. The algorithm used to show type-ahead suggestions ordered by search hit score has been improved.
Improved Password Management
When requirements are in effect for passwords for user accounts managed in TeamPage (e.g., minimum length or minimum number of special characters), a summary of the requirements will be displayed anywhere a user password can be set for either new or existing user accounts.
Developer SDK
Improved TeamPage GWT, SDK, SDL capabilities for creating and editing extended entry types. The new directory_users UnifiedSearchSource can now be used to query for users defined in any external identity server or servers that TeamPage is currently configured to use. The db.entries tag, which can be used as a way to iterate over journal entries based upon queries executed against externally defined database tables, now supports query result sets which include the same entry multiple times
Related
Oct 2015 | Personal Worklists, Quick Forms Track and share what you plan to work on. It's easy to add, rearrange, organize, checkoff and share items on your personal worklist
July 2015 | TeamPage Live Task Lists Live task lists keep everyone in synch on order of execution as well as planned end date
May 2015 | TeamPage Bookmarks, interactive filters, and Japanese search improvement Focus on what matters to you
March 2015 | TeamPage 6.1 Burn-up charts, interactive tables, SDK extensions Better tools for understanding the big picture of a projects or milestones
Dec 2014 | TeamPage @ Mentions Bring any TeamPage item to someone's attention, bring them into the followup conversation
The Work Graph Model: TeamPage style Understand how TeamPage connects people and their work
Tweet