Oct 2015 | Personal Worklists, Quick Forms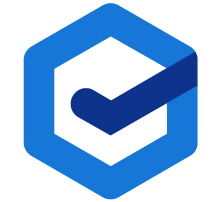 Traction® TeamPage Fall 2015 Release introduces Personal Worklists: Track and share what you plan to work on. It's easy to add, rearrange, organize, checkoff and share items on your personal worklist. New Quick Forms make common actions simpler using a right click action or keystroke. Traction TeamPage now automatically checks for updates and notifies your administrator.
Personal Worklists
Worklists make it easy for you to track and share what you plan to work on.
To add an article to your worklist, use the right-click Add to Worklist action. You can also press w in a task list or feed view to add the selected article to your worklist.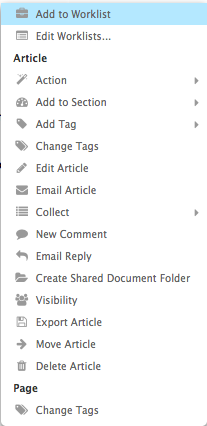 As you complete items on your worklist, you can check them off or use the Remove from Worklist action to clear them.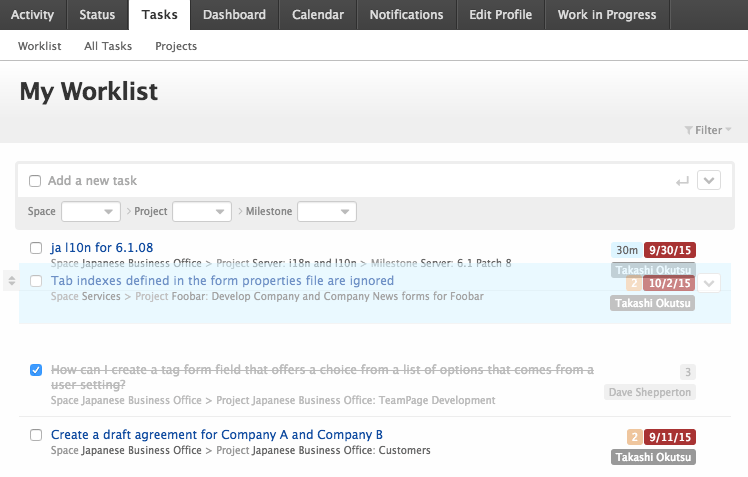 If you want only certain people (or nobody) to be able to modify anyone else's worklist, you can add them to a designated Worklist Managers Group in Server Setup.
Quick Forms
TeamPage now offers several quick forms for common activities such as closing a task, assigning a task, editing an article, and deleting an article. These quick forms can be launched using the right-click context menu, or with a keystroke in list views when you have an item selected (see keystroke table below).

| | |
| --- | --- |
| Keystroke | Action |
| e | Edit the selected task |
| a | Assign the selected task |
| c | Close the selected task |
| Backspace or Delete | Delete the selected task |
| W | Add the selected item to, or remove it from, someone's worklist |
Other Release Highlights
List Separators
Task lists and worklists now support separators, which can be used to organize the list using outline-level headings. Each heading also shows the count and the total time estimates for the tasks contained in that section.

Ordered List Improvements
• Ordered lists now have their own print view, including separators.
• Task lists can now be reset to the default order, clearing any manual overrides.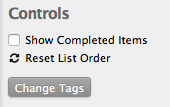 Projects
The order of the Tasks tab has been rearranged to put Projects first, followed by Milestones, and then Tasks, in order guide people towards using Projects, which support ordered tasklists.
Projects can also be ordered and color-coded on the Projects tab, and the Projects tab can be filtered by color as well as other attributes.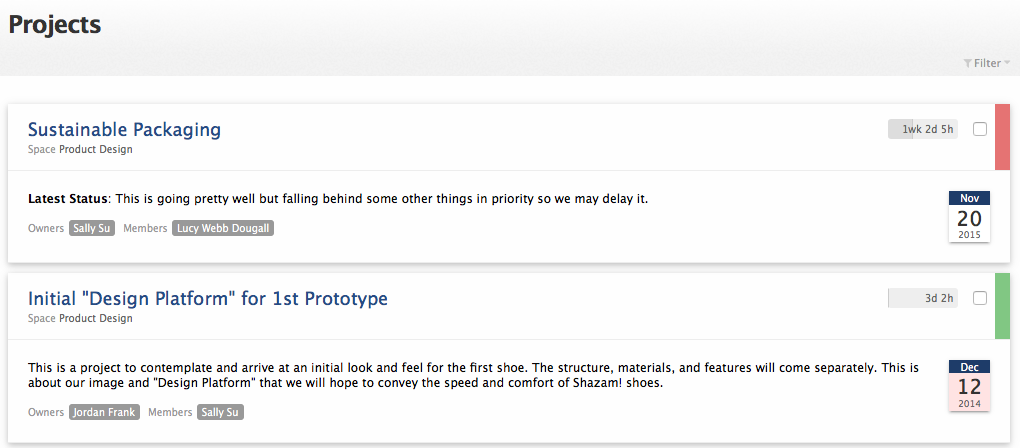 On the project tab, each project block also shows the project's most recent status update. Expanding projects on the projects tab shows an abbreviated project dashboard, highlighting the project's milestones and top tasks.
Blank States
Many views now provide helpful feedback when no content is displayed.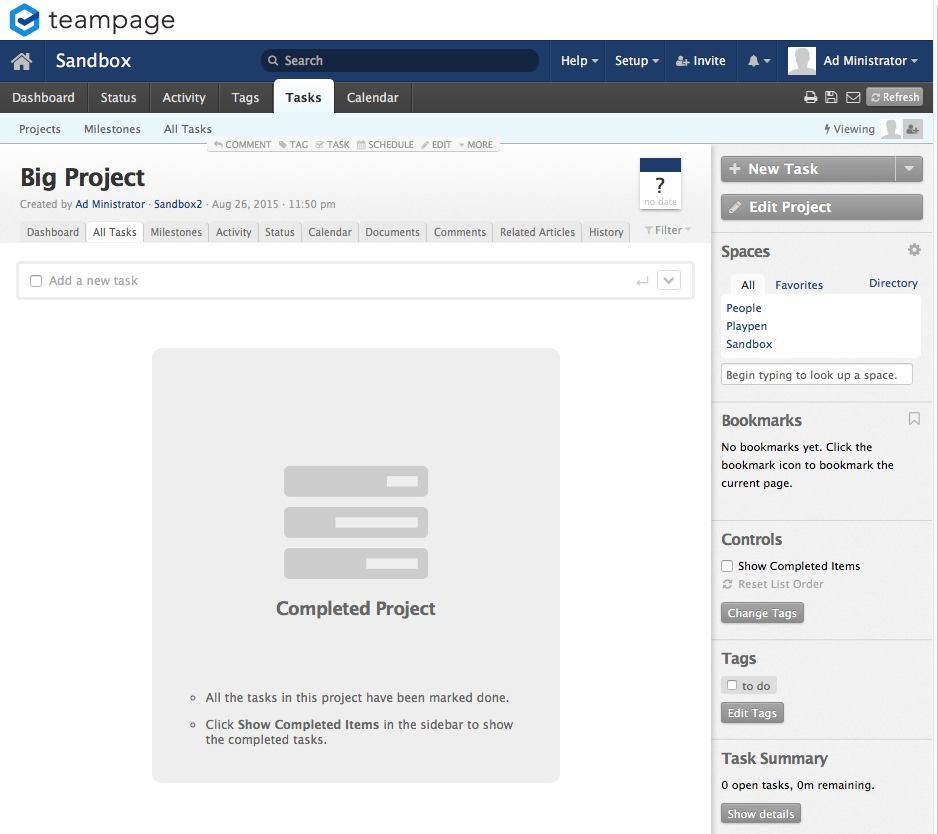 Automatic Check for Updates
TeamPage now checks periodically for whether a newer version has been released and, if so, displays a message to server administrators. Administrators may choose to skip a version or temporarily dismiss the update notification, but can check again any time using the "Check for a New Version of TeamPage" button that appears on the server settings > general page under Runtime Info.
Related
July 2015 | TeamPage Live Task Lists Live task lists keep everyone in synch on order of execution as well as planned end date
May 2015 | TeamPage Bookmarks, interactive filters, and Japanese search improvement Focus on what matters to you
March 2015 | TeamPage 6.1 Burn-up charts, interactive tables, SDK extensions Better tools for understanding the big picture of a projects or milestones
Dec 2014 | TeamPage @ Mentions Bring any TeamPage item to someone's attention, bring them into the followup conversation
The Work Graph Model: TeamPage style Understand how TeamPage connects people and their work
Tweet