Introducing Apps and Extensions
Useful plug-ins for your work
Applications
The CRM/SFA app which allows employees to record and share "what you did, what you know, and what you are going to do" with team mmembersto improve sales activities.
The CRM/SFA app similar to the CRM extension, but this allows people to track all activities related to a specific customer, including comments and status changes.
Customer Project Management. App to manage customer information and related opportunities. Suuposed to be used in a BtoC business.
Designed for ISO 9001. Provides Feedback, Non-Conformance, and Corrective Action forms and dashboards to TeamPage's standard support for authoring, delivery, and tracking of quality and compliance documentations.
You can require selected users and groups to read, approve, authorize, or certify that they have taken some action associated with or described in a TeamPage article.
Allows you to add a sub-title to a TeamPege's standard Wiki entry and creates an index by the sub-titles. For products, company policies, FAQ etc.
Allows you to post reservations of your internal equipment such as projectors and let other people know when it will be used by who.
Enables easier, faster and more accurate minute taking for recurring meetings which agenda is standardized.
Support Request Management
Allows you to manage non-conformance reports, questions, complaints etc. from your customers. Tickes can be posted via web form and email. Notifications would make you miss anything.
Share your daily objects, progresses, achievements, thoughs etc. to keep your team informed and updated.
It is an application for recording, accumulating and sharing exchange expiration date, person in charge, contents of correspondence, etc. about the equipment in the company. By referring to past cases, you can speed up response when trouble occurs.
App for managing, storing and sharing inventory information of raw materials, work in progress, products, goods etc. You can check the stock number at any time anytime, you can make replenishment and order before the stock runs short.
For checking progress of purchasing applications and approval of goods. You can set the progress status such as accounting approval and ordering, you can manage from the beginning to the end of the purchase of goods.
Rental Equipment Management
An application for managing lending and returning of equipment such as demonstration machines and sample items to business partners, shops, etc.
Log and count the sales of cases. It can work smoothly in the combination with the CRM and PMCRM plug-ins.
Plug-in for carrying out questionnaire. Possible to make detailed settings such as selective and multi-selective expression, disclosure / non-disclosure of answer contents. You can export voting data as CSV.
It unifies management of acceptance of application for issuance of various certificates and correspondence status, realizing efficiency improvement and prevention of correspondence. It is mainly intended for use in the general affairs department or human resource department, but it can be used by other departments.
Application to apply for teleworking or remote work (telework) to the superior manager, to manage approval / rejection by the superior manager, to submit work reports and deliver deliverables after telecommuting at the end.
App to notify the person in charge to leave a message of an unattended phone that has been addressed to other users. You can set correspondence deadlines and priorities as necessary and manage the importance and urgency of correspondence.
Record the date and time of the meeting, content, participants, etc., notify the stakeholders and connect to the next action. Extend report format. You can also work with customer management & opportunity management form plugin.
Let's record, accumulate and share the content of complaints from customers and business partners, response date and time, person in charge of correspondence, contents of correspondence etc We can improve customer satisfaction by raising to the next action such as corrective / preventive measures.
Creates a daily report from the event entries (shedule entries) on a specific date. Various refinement is also possible. Since comments and registration tasks are also displayed, you can grasp the progress of work on the daily report.
It is a status report memo that can be used for various purposes, such as negotiations, minutes, inquiries, complaints, defect reports and so on.
You can easily post articles with photos and dates that can be used for various purposes, such as diaries, daily reports, diaries, etc. Please include on-site reports and photographs of social gatherings that use many photos.
In addition to sharing the contents of the conference, you can register comments and tasks. Attached file correspondence. Conference attendees are automatically notified of posts, changes, comments, etc. of the minutes.
Feature Add-on / Modification
Based on the start date and time and the end date and time of the schedule entries, calculate and tabulate the work man-hour (spent time) and classify it by easy-to-read graphs and tables.
Calculate and tabulate the number of work man-hours (required time) based on the deadline of the task article and classify it by easy-to-read graphs and tables.
Automatically generate the table of contents of the article, save the trouble of creating and updating the table of contents manually, or creating an anchor link. In addition, by setting up the table of contents, you can expect an effect that makes it easier to grasp the contents of the article at a glance.
Copy Entry ID to Clipboard
Makes it easy to copy entry IDs (aka Traction IDs) and document paths to the clipboard of your device. You will find it helpful when you want to put a link in the body text by writing an ID of the link target article.
Profile Page Improvements
Make the dashboard screen of the profile page "My Page" to make it easier for you to check notifications and tasks you addressed to yourself with a list or calendar.
Plug-in that makes it possible to vote for "Like" type and evaluation for 5 star type. You can set it so that you can also make a negative evaluation if necessary. Voting and ratings are automatically compiled and displayed on the dashboard.
Shared folders such as spaces and projects are displayed in a tree. You can change the sort order of folder icons and files on the setting screen.
Displays the terms of service to users who come to TeamPage and prevent them from viewing content until they agree with the terms.
The Gantt chart of the task is displayed in the project and milestone of the project management function.
You can inform and check your presence information. It can be used in conjunction with upcoming updates.
Display articles, tasks, etc. collected under various conditions in a table (spreadsheet) format that supports sorting, narrowing down, switching pages and so on. Small operation setting is possible.
We display articles, tasks, etc. gathered as sections in a table (spreadsheet) format that supports opening, closing, rearranging, narrowing down etc. You can expand the article on the spot and check the contents or add a comment.
You can customize the placement of burn-up charts, task lists, calendars, etc. displayed on the project and dashboard dashboard screens.
Display convenient navigation at the top of the screen so that you can quickly navigate to frequently used screens.
In the upper left of the screen, display a side-by-side list or drop-down list for selecting spaces.
You can hide the sidebar and take up the main area widely. It is convenient when using the projector.
Display the calendar for 2 weeks on the space dashboard to make it easier to check the upcoming schedule in a space.
It is a plug-in that displays the content of annotations in a speech balloon. It is useful when making a wiki.
You can display relationships such as attachments, tag attachment, task and schedule registration, user follow-up etc. in the mind map form with a focus on arbitrary articles, and visually check work relationships.
Display history, such as comment, edit, task registration, schedule registration, tag change, moderation etc. in the timeline (chronological order).
You can set up links and buttons to display posts such as new articles, tasks, schedules and so on. Supports using templates.
Copy existing projects, including milestones, tasks, and related articles.
Converts the contents of CSV file or TSV file into table format and displays it. Sorting is also supported.
Display images, PDFs, web pages, videos, etc. on a standard dialog like Proteus skin Lightbox.
It is a skin that corresponds to responsive design. You can make it simple for mobile terminals, or you can use various functions for desktop.
It is a skin for mobile terminals designed to quickly and easily confirm the latest situation and reply to comments.
It is a plug-in that makes it possible to output TeamPage post data (entries) in CSV format and download it.
Lets you select a style of the mention rendering from full name, handle name, and user name, and color the backgrounds of the mention links.
Cooperation with Other Systems
It is a plug-in that performs access analysis of TeamPage in cooperation with Google Analytics access analysis service of web page provided by Google.
Embed documents in Google Docs (Google Drive) embedded in articles, tasks, etc.
Embed information on Google Calendar in articles, tasks etc and display it.
We display the map and the regional search service "Google map" provided by Google embedded in articles, tasks, etc.
Embeds and displays tweets of a specific account on Twitter.
It is a plugin for managing user accounts in cooperation with Microsoft Active Directory NTLMv2. (NTLMv1 and LDAP linkage functions are incorporated in the TeamPage itself)
About Plug-ins
By installing plug-ins in TeamPage, you can add new features and change existing features and designs.
Plug-ins are installed in a folder different from TeamPage itself. You can disable or uninstall the plugin at any time and return it to its original state.
Plug-in Management
In the plugin administration page, you can add (install), change order, and remove (uninstall) plug-ins.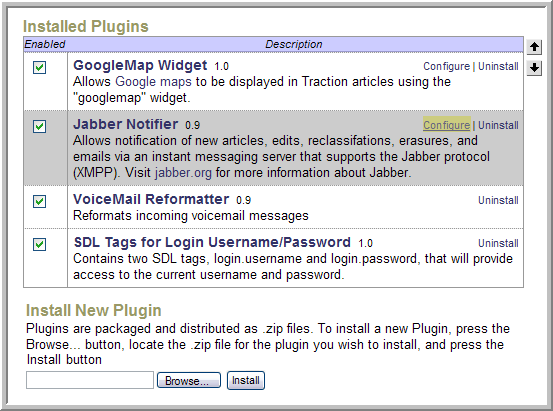 How to get plug-ins
Lots of the plug-ins are published in the TeamPage support site. Registration is free. We always welcome you to join us.
How to develop plug-ins
You can participate in the plug-in development. You may be required the knowledge about Skin Definition Language (SDL), Java Software Developer Kit (SDK), HTML, and/or CSS etc. Please refer to the development references in the support site.